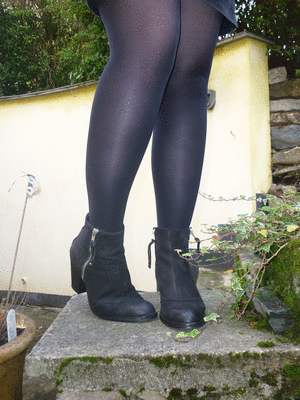 H&M tee shirt, H! by Henry Holland for Debenhams hoodie, M&S skirt, Topshop boots, scarf c/o Misguided (from the Birmingham Blogger Meet)
Ooh, look, my first gif attempt! I feel like quite the technological genius. I wanted to show off my new boots, which to be honest were something of an impulse buy- I saw them in Topshop and immediately wanted them, but I did go away and think about them for a bit beforehand. I suppose I call them an impulse buy more in the sense that I didn't actually
need
them. (Ooh, that was a bit of a #whitegirlproblems moment. ) Anyway, recently I have been feeling quite gothy and dressing in black quite a lot of the time- perhaps its the time of year, or just laziness, (since this way of dressing is SO much comfier), or just the fact my boyfriend likes me looking a bit less 'polished' shall we say, but I have just been throwing on tee shirts and denim skirts, or my black jeans. Quite boring but just what I feel like wearing at the moment. So, these boots seemed like the perfect ones to just jazz up these outfits a little, and I must admit, I love them. They are comfy (well, I haven't worn them out yet for a proper walking sesh yet but good so far) and they just make me feel cool. I like the zips and the slight cowboy vibe they have. Apparently they're a dead ringer for some Acne boots but I found this out after I bought them! Anyway, I am very happy with them, and cannot see them leaving my feet for the foreseeable future.
Outfit in itself is quite boring, although I have been meaning to show you this tee shirt for an absolute age- once again, one of those things that I seem to wear so often it just doesn't get photographed. Its the perfect stripey tee shirt, and only cost me £8, so I did buy two!
Also, I feel the need to tell you that this is in fact a scheduled post- look at me being all organised and writing two posts on my day off!